Welcome back to Kritigri's Top 10 Games Played, this time during the 2018th year since some kid was born in a barn or something. Once again I would like to reiterate that since I don't always play the most recent games, this list is not restricted to games released this year (although to be honest most of them were this time around). I'd also like to clarify that a game previously featured can be featured again if there's been a major DLC or expansion release, or some other transformative update that has changed the game significantly. Also, I bought a PS4 about a month ago, so that marks three years in a row where I've introduced a new console (or PC) to my gaming arsenal.
Let's begin with not one, but three honorable mentions.
---
Honorable Mention – Marvel's Spider-Man (PS4)
The only reason that this isn't on the list is because, well, I've only just started playing it. I'm about five hours in, but I'm already gushing about what a bloody masterpiece it is, and how proud I am of Insomniac for creating yet another brilliant game that's rocketed to the top of my favourites. The world feels lived-in and vibrant, and the game keeps throwing things to do at you as you progress throughout the campaign (I watched 60% of a playthrough when it released). The unlockable suits and powers are excellently crafted, but most beautifully of all, this game has a story which is every bit as captivating and authentic as any Spider-Man comic or movie I have ever read or watched. Just… bravo, Insomniac. Bravo.
---
Honorable Mention – Fortnite (PC)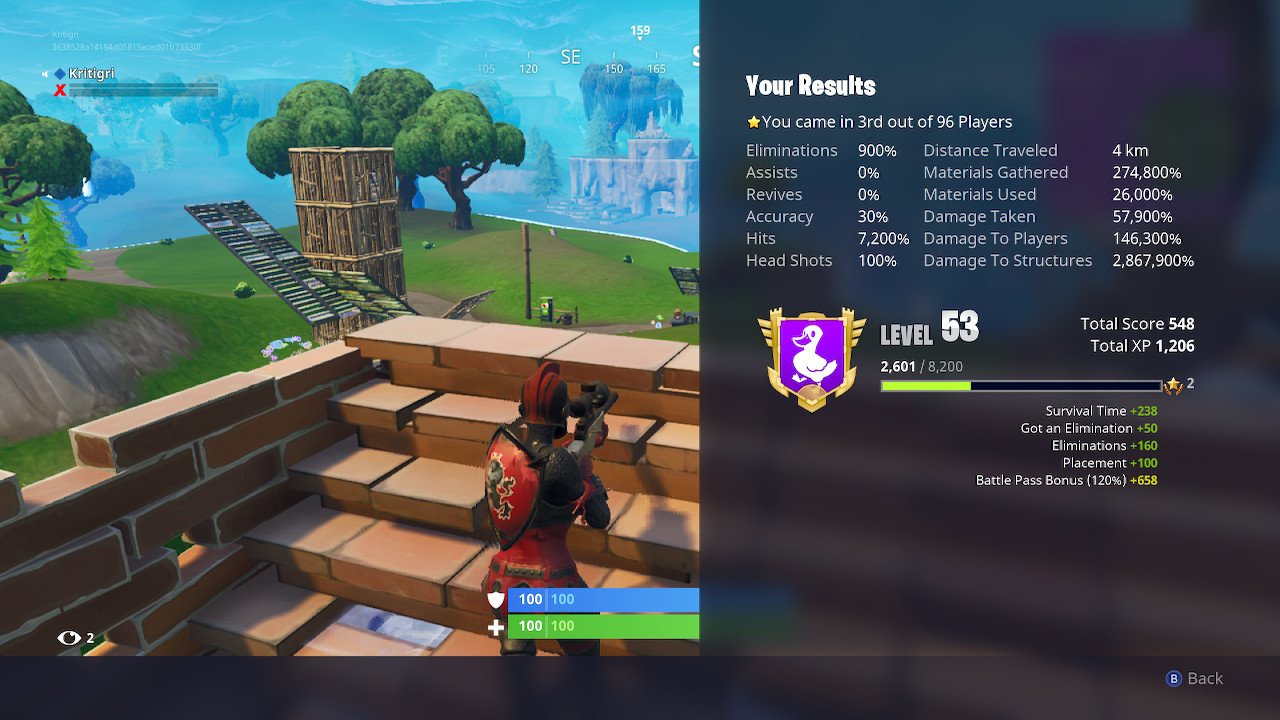 I played a lot of Fortnite during season 4 with a friend, as I was interested in the Battle Royale experience but not quite willing to shell out money at the time. Plus, I preferred the look of Fortnite's cartoony aesthetic compared to the gritty military visuals of, say, PUBG. I played a lot of Fortnite when I was invested, and had an unashamedly fantastic time doing so, but the way the Battle Pass system works eventually made the game feel like a bit of a chore for me, as I was determined to unlock the full Omega skin but had a long road ahead of me and little time to accomplish it. Plus, I found myself altering how I played games in the hopes of completing challenges, as opposed to playing it for the enjoyment of it. After unlocking the full Omega skin shortly before the end of season 4 I ultimately felt burnt out, and have only rarely returned to the game since. Still, I can see why the kids love it. Stop mocking them. Let them dance. But remember, this game is more than just memes. Epic have built something really unique here within the Battle Royale subgenre.
---
Honorable Mention – Runescape (PC)
This game doesn't qualify for the list as it's one I've been playing on and off for almost half of my life, and it hasn't had any kind of expansion or game-changing update to warrant inclusion as something new that I've played this year. And yet, I wouldn't be surprised if I sunk the most hours into Runescape in 2018 than any other year. This year I finally achieved my first level 99 in Woodcutting (it was an auspicious moment), and then followed it up with 99s in Firemaking, Divination and Fletching, in that order. I also unlocked the endgame city of Prifdinnas, which requires effort enough to be considered a 99 in itself, in my opinion. Crucially, I achieved a high level (70+) in almost every skill, which has opened up so much more of the game for me. Runescape doesn't attract too many new players these days, but it keeps the ones it has, and therefore most of the updates that are made for it are skewed towards the higher levels so as to be appetising to its active player-base. While you certainly don't start in a barren wasteland at level 3, it does create this interesting situation where the game just gets bigger and bigger, the higher level you are.
Another important reason for my increased time in Gielinor is my clan. Hi, clan! The game is so much better when you have people to talk to, let alone awesome people such as yourselves.
---
#10 – Celeste (Switch)
Celeste is a difficult platformer with a heart of gold. I've not finished it (or admittedly picked it up in a while), but it nails the level of difficulty required for stubborn players like me who want to bash their heads against a level for a good half an hour if necessary until completion, when the sense of satisfaction becomes palpable. Plus it is not shy about throwing new mechanics at you and moving on, without milking each mechanic for as long as they probably could. The game also lets you know how many times you died on each level, which is always a fun statistic. The Switch's easy sharing functionalities have made for some fun moments on my Nintigri Twitter feed, too. I'll be coming back to this one.
---
#9 – Captain Toad: Treasure Tracker (Switch)
Bloody hell does this game make me smile. I'm not a huge puzzle game kinda guy, but I bought this on a whim during a sale and at the recommendation of a streamer, and boy am I glad I did. The game is bursting with charm, although its bright exterior belies some truly perilous situations in later levels. The level design philosophy seems to be all about packing as much stuff into as small a level as possible and it truly is impressive how successful they were in this endeavour; what at first seems like a simple chunk of world is often home to many nooks and crannies that you'll need to access if you want to complete every objective. Plus, bonus objectives add replayability post-completion, and the level count is nothing to be sniffed at.
And so it comes to pass that perhaps my favourite puzzle platformer is one that features characters who can't even jump. (Their backpacks are simply too heavy!)
---
#8 – Pokemon Let's Go: Eevee Edition (Switch)
I feel ashamed. I've only beaten the first three gyms, and then I got distracted by the PS4 I purchased. But make no mistake, my time in Kanto is far from over. Because holy heck have I had a fantastic time rediscovering all my favourite first generation Pokemon and interacting with a familiar world in new ways. I've always favoured the remakes over new games (my favourite Pokemon games peak with Pokemon Soul Silver and Pokemon Leaf Green), because they've always felt like a perfection on old ideas, and the Let's Go games take it one step further by reinventing the nature of capturing and levelling up Pokemon. It's honestly refreshing, although I'm glad it's a spin-off and not the prevailing philosophy for the core series.
One gripe I do have is that the game feels somewhat too easy, as the focus is on collecting and levelling rather than battling trainers, but I'm still fairly early in the game and I have noticed a bit more variety being introduced to trainer battles, so maybe that's not a problem later on.
---
#7 – World of Warcraft: Battle for Azeroth (PC)
Seeing as I expected this to be at the top of this list pre-launch, expect most of this entry to be me exploring why it isn't. Firstly, though, it is here because the continents of Kul Tiras and Zandalar are beautifully realised, new expansionary features such as Allied Races and the War Campaign were welcome additions, and because ultimately it's still new content for World of Warcraft, which is ever contesting with the real world for possession of my soul.
To start with, the levelling experience didn't grip me as much as I'd expected. I feel like this is in part because the story was building up to a war between the Horde and Alliance but focused instead on local issues, in part because Blizzard have jumped the narrative shark of dealing with the Legion, and in part because when stretched across three zones, the pacing of questing felt elongated and never-ending. Stormsong Valley is beautiful, vast, and bloody endless. This isn't helped by the fact that zones were designed with side-quests in mind, but there was no indication that what you were doing was vital to the story or not until you'd spent half an hour killing quillboars only to check your story progression and find it hadn't moved an inch. Hence, after cleaning out Tiragarde Sound and Stormsong Valley of every yellow exclamation mark I could find, I only made it a few quests in to the hauntingly atmospheric Drustvar before hitting level 100, and being required to finish the zone to continue the over-arcing narrative without getting any further relevant rewards became a frustrating grind despite the fantastic setting.
At end-game, everything became time-gated. You needed to reach certain levels of reputation with certain factions in order to progress, which was an issue when the only method of earning said reputation was to grind World Quests. Island Expeditions, while delivering on promises of exotic landmasses and a new style of gameplay, actually gave little reward and amounted to little more than a stressful combat rush which didn't let you stop and take in the setting or provide any sort of narrative. And Warfronts were so impressively time-gated that I actually gave up on waiting.
8.1 may have fixed a lot of these issues, but I've not yet returned to have a look, and don't think I will until I have much more time available to me. There's no doubt that the expansion is fun and gave me hours of entertainment, but when ranked up against Legion it just doesn't yet compare.
---
#6 – Elder Scrolls Online: Morrowind (PC)
Right, so I did include ESO in my 2016 list, but this is about an expansion sorry, chapter, that was released in 2017. Sorry for the confusion. Anyway, I wasn't expecting too much outside of the ordinary ambling around Tamriel I do in my occasional bouts of playing the game (I'm almost level 50 now, you know), but to my surprise Vvardenfell hooked me in. Before that, I'd spent some time in Coldharbour completing the main quest line, so it helped that I was already immersed in the game, but questing in Vvardenfell was so interesting and fun that it almost reminded me of some of my deepest dives into Skyrim. Not that you should ever compare ESO to Skyrim. They're different genres, okay? STOP GIVING IT NEGATIVE REVIEWS FOR NOT BEING MULTIPLAYER SKYRIM i'm fine.
Maybe I'll play Summerset in 2019!
---
#5 – Assassin's Creed Origins (PC)
Origins, not Odyssey. I'm a bit behind. But Assassin's Creed Origins marks the first RPG(ish) that I've fallen off of, and successfully returned to six months later without needing to restart the game and subsequently fail at progressing. I've still not finished it and I have put it down again for the time being, but I have faith that when I return to Egypt once more it'll be the game's refined stealth and combat systems that keep me entertained, while exploring Ptolemaic Egypt will keep me immersed far better than Bayek's decent-but-meagre personal plot. This game feels like a deep dive into ancient history and my favourite parts are always the things I learn about the contextual world that genuinely fascinate me.
Shooting bandits in the back of the head without alerting the rest of the camp is a close second, of course.
---
#4 – Spyro Re-Ignited Trilogy (PS4)
This game is what caused me to finally buckle and buy a PS4. I have no doubt that it'll be announced for Switch and PC eventually, but I have no regrets. Reliving my childhood was a complete blast, and the games look absolutely gorgeous in their new rendition by Toys For Bob. I spared no time in getting a Platinum trophy in all three games, and even streamed my playthrough of Year of the Dragon, the game I was most familiar with. The only gripe I have is the Sgt Byrd was a goddamn disgrace to control, but that may have been the case in the original, too, I don't remember.
I was excited for this game for a long time and after completing all three, I'm still itching to play more Spyro. I could honestly replay the whole trilogy right now, if I didn't have so much else I wanted to play!
---
#3 – Crash Bandicoot N.Sane Trilogy (PC)
I just had to choose between Crash Bandicoot and Spyro the Dragon and I do not want to talk about how difficult it was to put one above the other. When it comes down to it, though, I love difficult platformers, and while Crash may not have been designed to be difficult for its time it's certainly aged that way. I've gotten every crystal and gem in the first two games, and am very slowly working my way through the relics (speedruns, for the uninitiated). In Warped, it seems that you need to get relics first to unlock every level, so that one is slightly more complex. Regardless, I intend to fully complete them all if I can. I've certainly made the most of my many many failures within my playthroughs.
---
#2 – Ratchet and Clank (PS4)
You didn't think I was just going to let Naughty Dog beat Insomniac, did you?
Ratchet and Clank was my original reason for wanting a PS4, and the strongest, and holy shit I finally got to play it and it was amazing and Insomniac please marry me. This game was not only a recreation of the original but an improvement upon it, with new areas and a new story, which was incidentally based off the animated film that was also based off the original game! (It was okay). Not only that, but this game feels like an amalgamation of the best parts of the entire series, including favourite guns from previous games such as the Groovitron and Mr Zurkon. Not only that, but Insomniac cooked up some new guns too, such as the brilliantly inventive Pixelizer and the Proton Drum. The game added a set of collectables in the form of Holo-Cards, cards which showcased some of the series' other guns and characters as well as providing some fun lore about them.
The game is beautiful. The first time I saw Novalis I nearly cried, and I wish I could tell you I'm exaggerating. Seeing something you're intimately familiar with and have a plethora of childhood memories attached to recreated with such care and skill is an experience that cannot really be summed up in words.
As it stands, I've beaten the game's campaign and its challenge mode, and only have four trophies left: fully upgrade every weapon, fully mod every weapon, fully upgrade Ratchet's health, and witness the Groovitron animation for every enemy. That last trophy is so easily missable that I legitimately had a bad dream about forgetting to do it last night. If you miss an enemy, you have to redo an entire playthrough. Not cool.
---
#1 – Destiny 2: Forsaken
I BET THEY DIDN'T EXPECT THAT! – Lord Shaxx
Yes, Destiny 2. I shunned it a little in 2017, but hello, 2018 called and it wants its GOTY back. I'm attributing this to the Forsaken DLC as it is for all intents and purposes a major expansion, but if I'm being honest I started to get back into the game when my friend convinced to give the Warmind DLC a go. Unlike Curse of Osiris it actually had content, and Mars is still my favourite location to this day.
Forsaken, though, added an enthralling campaign, two new locations, a new type of enemy, wove a compelling narrative, redesigned the way gun slots work, and most importantly, added Triumphs and Collections, essentially adding achievements into the game as well as a way to see what gear you've earned (and potentially re-acquire it) with ease. These simple features have made the game immediately more quantifiable in scope, and have allowed players to set themselves goals and drive themselves to replay content they otherwise wouldn't. By players, of course, I mean me.
The bounty system is also a welcome return, as I feel I'm never short on things to do, especially with the release of the Black Forge and its daunting Power Level requirements. (I'm still in the 570s.) Many of the issues that plagued the game in Year 1 have gone, and while Bungie still makes some questionable design decisions, I find that I experience two moments of satisfaction for every one moment of bafflement.
I'm yet to determine whether DLC of the Black Forge variety is particularly lucrative or worth the money, but here's hoping for more expansions like Forsaken in the future.